Tag:
meal prep

Let's meal prep together (again!). This time it's the summer edition!

WHAT DAY IS IT?
Whoa! Today is NOT a Monday ;-p. Why are we posting on Sunday?!  Two reasons:
(1) This post is about meal prepping for the upcoming week and I want ya'll to be able to participate (if you so choose).
(2) I'd like to know if my audience would rather a Sunday post versus a Monday post!
Also! Happy Spring Forward day for those in the states. The season change from Winter to Spring is one of my favorites. Second favorite is Summer to Fall.
TLDR
This week post includes links to the recipes I'll be making this week. Here is the TLDR, I just want the recipes link which will take you to the that section of today's blog.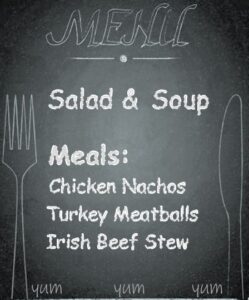 Practicing what I preach (this time)
The last post was about being prepared. One of the types of preparations I offered up was to determine how many meals were going to be cooked at home. As well as, what complexity level of meal prep your schedule might allow for.
Even if you do something like Home Chef, you might want to supplement. Therefore, I'm going to share a version of my schedule (just the highlights, not the details) AND the corresponding meals I'll do along with it. After, you will find a grocery list if you'd like to make these meals.
If you decide to make some of these meals (or all), please share via social media! If you are an anti-food poster on social media, at least put a comment below on what was your favorite, or your families favorite!
The schedule
It's probably been said a handful of times, but I start my weeks on Monday's. For the purposes of this exercise, we will focus on the work week only. My scheduled times consist of my early morning routine, going to the gym at least 3-4 week days, my day job and my blog. Of course taking care of Bianca and sometimes social activities are included.
During these days of work from home 100%, my schedule is packed with lots of meetings and talking during the day. Sometimes I have meetings through my lunch, where I turn off my camera but still need to talk. On those days, I eat a more simple lunch. Other days I go to the gym in the evening and would rather something not so heavy. In general, the time needed to cook, prepare or simply consume is what determines my meal.
Date
Time
Monday
March 15
Tuesday
March 16
Wednesday
March 17
Thursday
March 18
Friday
March 19
Early Morning
Gym
Morning routine
Up early
Gym
Up early
Work Day
Semi-Busy
Free @ lunch
Busy day
Easy lunch
Back-to-back meetings
(through lunch)
Easy lunch
Heavy work day
Easy lunch
Regular work day
Easy lunch
Evening
Cook dinner
Walk outside
Gym
Light dinner
Finish Thur Blog
Easy dinner
Dinner out
Gym
Light dinner
Selecting Meals
Nutrition
The top priority when select meals for me is nutrition. In close second is tastiness. Another factor, which has only recently come into the equation is variety. While I can eat spinach salads with no toppings everyday, I'd prefer to switch it up a bit. Now that I am going back to the gym, the sheer volume of food I eat is increasing. Plus protein is ever more important.
Intermittent Fasting
Oh! One thing you may have noticed but I just remembered is: NO BREAKFAST! For many years I have been an intermittent faster. Meaning, I eat within a 5-6 hour window and, as of right now only two meals a day. When I am not actively going to the gym, sometimes I go down to a single meal a day – but still ensure I am getting calories (no worries there!) More on intermittent fasting at Doctor Berg's YouTube Channel (here).
Healthy but Fast
Referring back to the schedule, it looks like I will need easy, quick to heat up and eat lunches. And this week, mostly lighter dinners. Monday evening I will have time to cook and Thursday I will be going out to dinner. Two evenings I might just have a protein shake before going to the gym, which means I will need more calories on those lunch days.
A few other details
Typically, I use the crockpot each week for one meal. In addition, I cook mostly on Sundays. And, as much as possible I store my food in single meal portions. I am a huge fan of raw spinach and cooked swiss chard. Two of my favorites are included below (the soup and the nachos). Nutrition Facts of Spinach.
This week's recipes
Now we get to the fun part!
Grocery List
Avocado (1)
Blueberries (one package)
Carrots (2)
Celery (2 bunches)
Garlic (2)
Parsley
Parsnip (1)
Spinach (1 package)
Swiss Chard (2 bunches)
Green Onion (1 bunch)
Yellow Onion (1)
Red Potatoes (5)
Cheese (Mexican Mix, Shredded, one package)
Parmesan Cheese 
Goat Cheese Crumbles (one package)
Sour Cream
Northern Beans (two cans)
Black Beans (one can)
Tortilla Chips (one package)
Guinness Stout (1)
Olive Oil
Vegetable Stock (1 package)
Bread Crumbs
Basil (dried)
Cornstarch
Garlic Powder
Red Pepper Flakes
Oregano (dried)
Thyme
Eggs
Beef (stewing – 1 lbs)
Chicken (2 lbs)
Ground Turkey (2 lbs)
Tool
A friend of mine used this tool is for shredding meat. After seeing it work, I went home and bought one. I use it at least once a week, and it is dishwasher friendly!
Two supplemental or meal replacements (These aren't recipes, instead just links to the products on Amazon.)
Protein Waffle Mix


Protein Shakes
Although I stick to my intermittent fasting and do not 'snack' between meals.  Sometimes, I do like something extra to during meal time.  Two of my favorites are here:
Belvitta
Ice Cream Sandwiches
Connect & Share
Share on Instagram and tag @brighteyedsmiles

Can't wait to see what you make!