Tag:
favorites

Comforts
Today I want to share with you a few  of my favorite things… these are my tried and true. The tested, the staples, the things I go back to over and over again.
If you are anything like me, there are days when we just want consistency, these days have increased lately, in my opinion, as the world around us changes without our choosing, while our work situations are constantly in flux. As a person who usually thrives on new experiences, 2020 was a year where I can genuinely look back and see a shift in what I would consider 'comforts'.
Did I try new recipes? Yes. Did I try new activities? YES. Did I meet new people (at a distance)? YES. But when I came home I wanted something to be familiar.
When I want my cozy, comfy feeling… these are the products I turn to… 
This list contains affiliate links.
Food
My all time favorite snack (okay yes, I eat too many  Frito's… but lets talk about actual nutritional snack that I can without hesitation recommend).  After almost a decade of searching for a protein shake with a good protein to carb ratio, good taste and no nasty ingredients… I found the holy grail!  OWYN.  Only What You Need comes in many flavors.  The three I like the most are:
Chocolate

– This is by far the best chocolate protein shake I've ever tasted.  It isn't chalky and doesn't have a weird after taste.

Coffee

– I will say this one has caffeine in it and gives me a buzz.  I typically only drink it if I'm working out or going on a hike!

Vanilla

– Okay. So my absolute go-to favorite is the vanilla.  Its smooth, its tasty without messing up the rest of your meal or can be just a snack.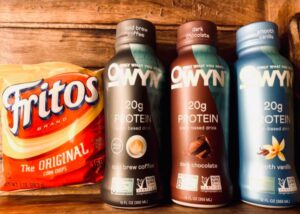 Beauty
Favorite Daily Beauty Products.  Never does a lady reveal her actual age, and it is never too soon to begin a skin-care routine or just in general use products that are cost effective but make you feel great!  
Most recently I started a new practice of 'icing' my skin each day which has been a game changer.  Otherwise I am fortune to have a sweet friend that owns her own day spa in nearby Charlotte, NC (you can check her out here: https://www.truesthetics.com/). 
 Typically however, I use products that can be purchased on Amazon.  I've been trying to keep it simple lately.  Here are my top favorite every day beauty products: 
1. Everyday Soap: Grandpa's Witch Hazel Bar Soap  The smell of this is light and natural, it is gentle on my sensitive skin but also makes me feel clean and refreshed!
2. Makeup Applicators: Makeup Sponges. I used to buy much more expensive ones but found that these are the best value and work wonderfully. It also makes it so I change it out more frequently.  Although I will say in the current environment, I haven't been wearing much makeup. 
3. Facial Cleanser:  After I use a makeup wipe I have found that the TruSkin Vitamin C Cleanser works best to calm the skin, soften it and make it feel completely free of makeup from the day!
4.Daily Serum: This Hyaluronic Acid Serum is the best I've found on the internet thus far.  It has no scent (which is important to me), it goes on and absorbs quickly.  I use it day and night for my face and down my neck.  When I'm not wearing makeup for the day, I simply apply this and that's it!  
5. Dry Shampoo: My all time favorite (years and years of experience) dry shampoo: BATISTE!  The influencer that originally opened my eyes to this (LeighAnnSays), still swears by it but also recently suggested something different.  If I try it and have good results, Ill let you know in my hair post :-p
Eventually I will do a post about additional products, pampering days, makeup and yes, my hair.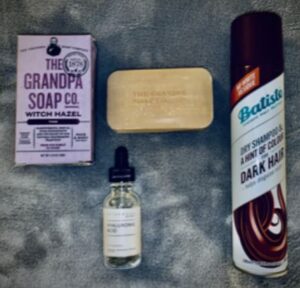 Home
Home Stuff. Currently, my home has also become my work space and my workout space. It was alarming how quickly I wanted to make improvements, move furniture, continuously clean and… honestly MOVE after spending so so much time in just one place. That being said, I am overwhelmingly thankful that my position can be done from home, over video. For all of you out there that aren't afforded this, we APPRECIATE YOU. I know I am so thankful for the people that are making the world tick – either at the grocery, the doctors or at the distribution warehouses that are literally making the world go around right now. THANK YOU.
For those of that are at home… I did find a handful of things that have helped me and I hope they can help you too!
A kneeling chair.
Okay so I know there are all the jokes about those of us that had standing desks in the office. We apparently don't stop talking about our standing desks. *que Trey Kennedy skits here*… well at home without my standing desk, and after getting a blister on my wrist from poor posture I was ready for something different. My 'day' job requires quite an amount of time in front of a computer and I needed something that would reinforce good posture without taking up a ton of space. SOOO I found this kneeling chair. I would probably rather stand because I do like to move around, however it is a good alternative and has made these past 10 months much better!
Trash cans.
Yes people… this blog is meant to be for those of us that are real. We all need a decent trash can in our life. Specifically, as a dog owner, I've always appreciated trash cans with a lid that closes and doesn't open easily. I'm sure some of you out there have dogs that know how to step on the lever and make these babies open… but if not, and you are looking for something that is big enough for the bathroom or office, closes and isn't an eye sore… may I present to you this little SimpleHuman Compact Trash Can! It was so good I bought one for each of my bathrooms.