Day in the life of

You asked for it! So here it is. Below is a typical 'day in the life' of me 🙂 Most days I try and mix things up, but the activities contained in my day are usually the same. The theme of the pandemic and being home all the time, and not really seeing many people is apparent in this post, simply because we are still living through it. One day Ill do a day in the life of, once things are back to normal!
This post brought back memories of my this or that post about a perfect day!
Morning
First, waking up, sometimes to an alarm, sometimes naturally. Typically, 6am-ish wakeup, dependent on how early my first meeting is. And immediately taking Bianca out for her morning walk. Sometimes she is grumpy in the morning, however with the temperatures cooling down she is a bit more chipper in the morning!
Next, we make coffee, meditate and enjoy the morning. I especially love mornings where it is still dark when I get up and I can sit outside and watch the sun come up. Sometimes I'll take my journal outside and others I'll sit with my hot coffee and enjoy fresh air.
After a nice slow morning, next it is time to get ready for the day. The means either a quick shower, or at the very least washing my face applying lotion and brushing my hair. Followed by makeup some days, others none.
Work Day
As you may already know, I am an intermittent faster, so you'll notice no mention of breakfast. Coffee only and it is basically black. Most days I log on 30 minutes before my first meeting to catch-up on emails and make sure I'm prepared for any meetings. Working from home because of the pandemic has been nice to be close to more coffee and the ability to take Bianca out whenever she wants.
I do try and take breaks while I can and do little stretches here and there. Around lunch time I'll heat up something prepared (see my last meal prep post here). Now that we've been in work from home for so long, I typically actually take a full lunch. Either by taking a longer walk after eating or doing anything by going in the office in my house.
Once the day is wrapped up, I change back into workout clothes.
Evening
By this time, all I want to do is be outside and moving. This means walking around the neighborhood, or going to a local park. Sometimes meeting up with friends to walk and enjoy one another's company. Either way, getting additional steps in, either full out exercise or chatty walking! Afterward I'll pick up dinner or heat up whatever I meal prepped.
Then it's time to do all the things I love to do … yoga, deep breathing (more on that one day later), more meditation, reading, watching shows or talking to friends.
Night Time
Once it is time to wind down, I'll take off my makeup, take a shower or tie up my hair, get Bianca outside for one last time and get in bed. I'll admit, sometimes I stay up on my phone way too long, and other times I'll go right on to sleep. Sometimes I'll stay up reading and others I'll barely lie down before I'm out!
Thoughts?
I'd say this is a mostly typical day for someone with a job like mine who is still work from home! I'd love to hear your thoughts and how this differs with your own day in the life of! Would love to hear from you in the comments down below!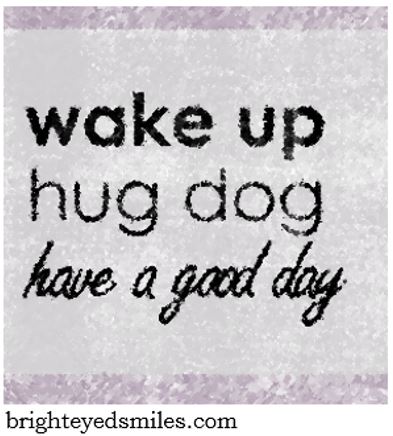 ---
---