Hello & Update

Hello everyone! We missed you last week. First off, thank you for following me and asking where the posts were! One day Ill open up about the past week and all the things going on. At its most simple, I needed a break. It wasn't planned otherwise I would have mentioned. All that being said, please do expect posts to start coming out on an altered schedule.
What's been going on
In addition, one of my amazing brave cousins has been encouraging me to go on video. As most of you know I recently had a Mohs surgery close to my eye which has been affecting, not just my appearance, but my ability to use the screen for awhile. Eventually I will do a video (and I might even post an edited older one). Not to mention, I will want to open up about my surgery. After coming across another women's blog about her surgery I felt so much better! Please be aware that skin cancer can affect you at any age. Protect yourself from the sun as best you can!
Your thoughts!
In one of my posts, I mentioned how there isn't really a total science to all of this social media 'stuff'. There are trends and Google Analytics which can provide some information, however overall what really matters is what YOU all want! My readers and audience. If you have any preference over posting days OR topics for that matter that would work best for you. Please let me know! In the mean time, thank you for understanding about last week and see you soon!
Lastly
Mugs and stickers are still for sale! Soon, a new design will be posted and I will also soon be partnering with my friend at DesignatedGrapes on Etsy to have some other fun products!
Love Grows Here Mugs and Stickers can be found here: USE CODE SUMMER21 for 10% off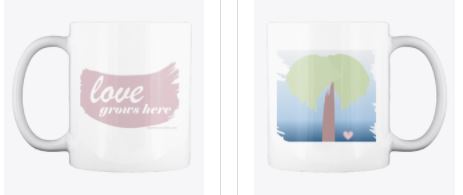 ---
---