Up in the sky.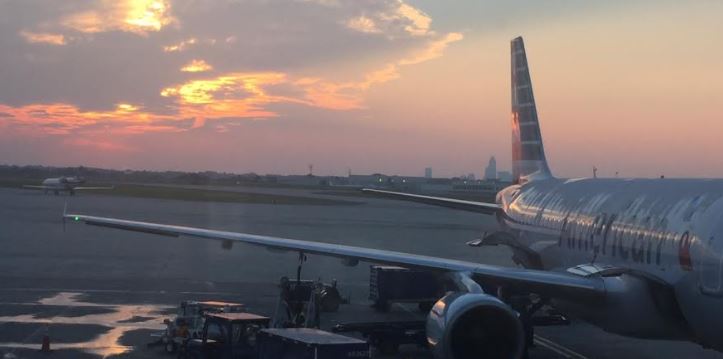 HAPPY PLACE.
My happy place used to be inside an airplane, in the air, above the clouds. I did my best thinking on the plane, my best sleeping on the plane, my best reading on the plane. I once woke up the passenger next to me laughing at a movie on a plane. It truly was my happy place. 
In a way, I suppose it was, what some may call, 'me' time. It was the place I could put my phone into airplane mode, and hyper-focus on a topic of my choice. Even working on an airplane was more enjoyable for me. 
Over the years I had my travel routine down to somewhat of a science. Staying hydrated, the do's and don'ts of eating and drinking, when to sleep and when to stay awake. It all comes with time and experience. And knowing when to adjust and adapt specifically to your own needs.
Yes, I flew enough to see disgruntled passengers, down-right rude passengers, sometimes smelly ones. But I also witnessed amazing compassion, people helping people and sweet connections. I especially loved when I was working out enough to be able to lift other people's baggage into the overhead with confidence.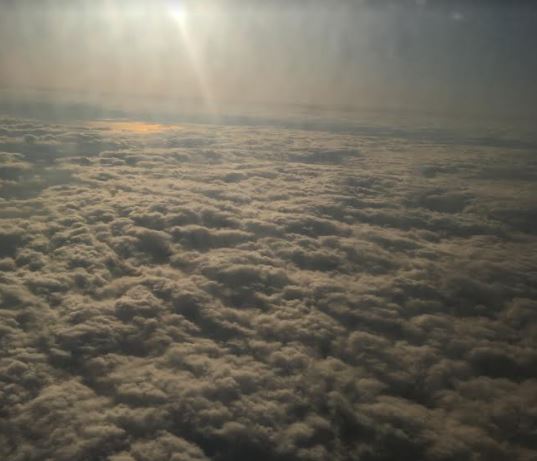 AMAZING BUT NOT GLAMOUROUS.
Never have I considered travel glamorous, perhaps this is due to my industry and mostly going to industrial parks. However, with work travel, there is limited or zero time to see the sights, even when in more interesting places. Brushing teeth on an airplane (especially when I had Invisalign) is NOT glamorous. Frequent flying comes with a handful of health risks, dealing with delayed flights. And depending on the airports and connections, flying can be a downright pain. 
I am also 100% the person that is doing these stretches in my seat.  After many long-ish flights over the Atlantic, and once over the Pacific, I'd rather be able to arrive to my destination bright eyed than worry about the looks I get in the plane (haha).  
My favorite route was Raleigh to London, the crew knew me from countless out and back trips. This might sound cool but… the mere fact that I was flying out on a Monday, arriving Tuesday morning to go straight to the office and flying back on Wednesday… packing was easy, let's leave it at that.
At the end of the day, though, we are in fact flying through the sky and the technology to do this is amazing.  Flying single-handedly made the world 'flat', sped up commerce and allows most of us to see lands we wouldn't have been able to even get to without it!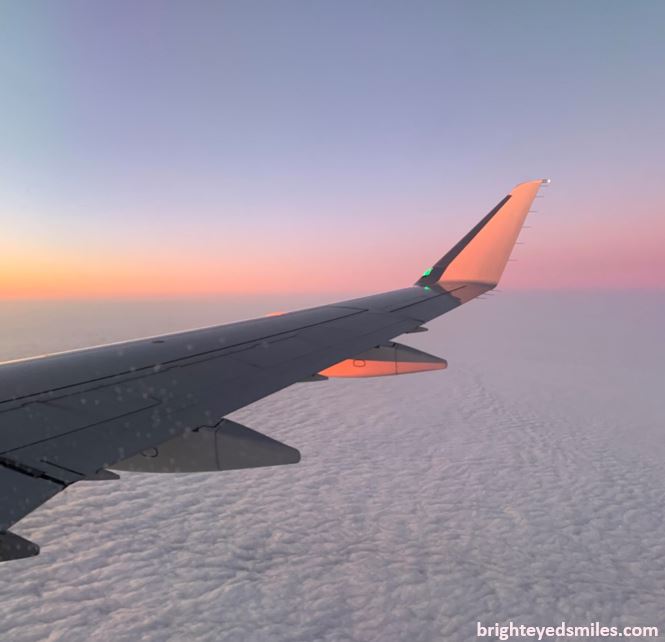 Splendor.
The actual experience of being up in the sky, made all the small inconveniences worth it.  The view.  The beauty.  Seeing the moon over the water.  
Being literally up in the clouds and remembering how awesome technology is.  (I can only imagine how it feels to be an astronaut!)  
The change in perspective is one that cannot be easily replicated without truly being up there.   Even the pictures on this page cannot come close to eliciting the same *feeling* of being up there in the sky, going 500+ miles per hour.  (Yes, that was an awkwardly placed late 90's Chris Rock reference, accurate nonetheless).
One day in particular it was a full moon AND there was a lightening storm.  I handed my phone to another passenger to take a few videos.  
Another flight I vividly remember was on the Fourth of July, which is Independence Day here in the states.  Seeing fireworks from up in the sky was one of the most beautiful sights. 
The picture to the right is over the Delaware River, flying through Philadelphia most likely going back to North Carolina from a work trip.  (Philly was my home airport when I started my career.  American Airlines, previously US Air, became the airline of choice because of the points I'd accumulated over time.) This particular night was a full moon and it was so clear that evening.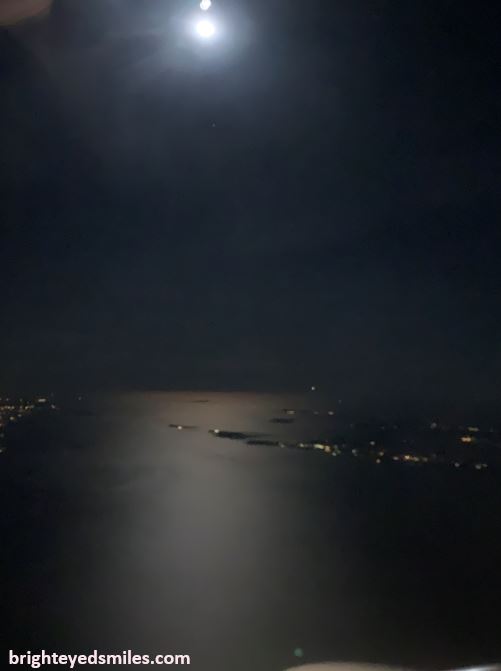 GROUNDED.
In previous years, if a company made cuts preventing us to spend on travel, we would call it being 'grounded'. This was typically 6 months at most. Today marks a full year of not being in the so-called friendly skies for me. On March 1, 2020, the day of the trip, we were officially grounded; this time not for budgetary reasons. The morning of, I woke up with optimism. I still hoped to go 'home', see London-based colleagues and at least be in the same time zone with the other folks.
Never could I have anticipated this change. (Of course, I could have opted to take a flight during this time (with a mask and 14 day quarantines) but I never had a compelling reason to do so.)
Now, instead, I appreciate the view of the sky from below.  To the right is a picture of an airplane from I95 near the Newark, NJ airport.  It is my favorite spot along the drive from Connecticut to New Jersey, because the planes fly so close to the highway.
Even though I don't get to be up in the sky right now, I've still been admiring the beauty from below.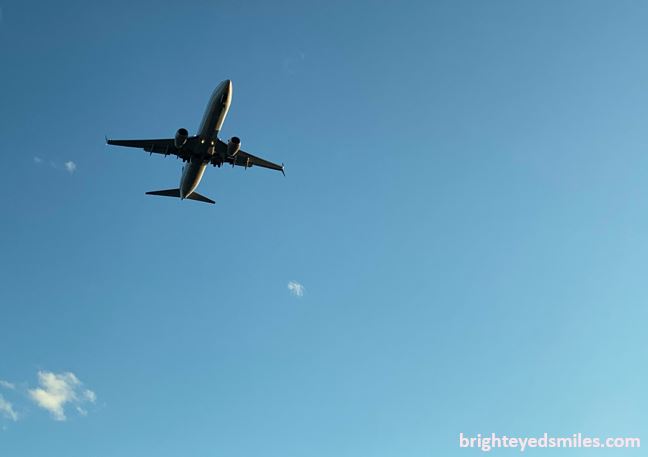 IDENTITY SHIFT.
Looking back I am overly thankful I was kept stateside. However, as months of stay-at-home orders continued on, my identity had to adapt.
Having become accustomed to making friends with the person in the seat next to me, eating in airports, doing yoga in terminal 3 of ORD, and even having a pair of flight attendant pumps. Being stuck in one literal spot has taken its toll on me.
It felt like mother nature grounded me. As I write this, I consider the fact an entire year has gone by and it sometimes still feels unreal. 
For the time being, my passport won't get stamped, my bright yellow crocs adorn my feet instead of heels and my view consists of a 13″ laptop screen.  One desk in my home has become the spot to work, do my taxes (yes you can call me an overachiever…), video chat with friends and journal.  
In the abrupt switch from 'home' being anywhere (see my last post) to everything happening at home, the 180 sometimes still feels like a strange dream.
The seasons of the last year, in my life, won't be remembered by the weather. Instead, the last 12 months are now marked by the incremental and often uncomfortable identity shift.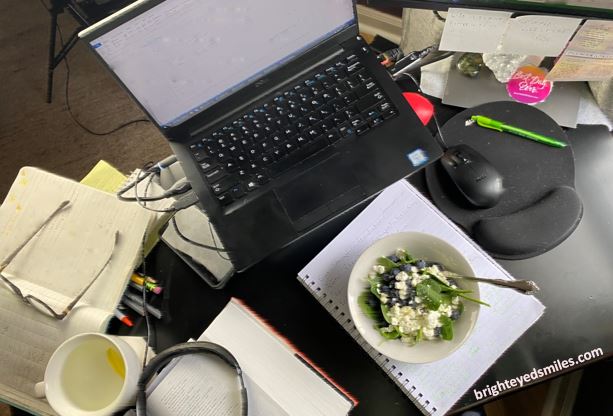 Gratitude.
One last thing to add. I am forever thankful my position can be done 100% remotely. 8+ hours a day of video calls isn't for the faint of heart, but I am safe at home.
I will also say, Bianca has of course enjoyed having me home all the time. When she isn't sitting in my lap making my job easier by relaxing the mood, she's sitting on the couch in my home office (shown here) staring at me.
We are both enjoying the start of warmer weather and extra daylight here in North Carolina <3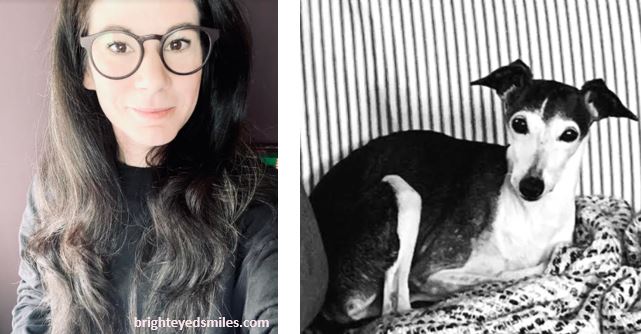 ---
---