Product launch and Giveaway!

Hello everyone! Today's post is a bit different.  Instead of a traditional blog post, I am launching my first products.  And hosting the FIRST giveaway! 
Que the YAY here. The occasion, you ask?! Mother's Day!
This year, in the United States, Mother's Day is on Sunday, May 9th. Some family's celebrate the mother's in their lives with Sunday Brunch or small gifts. The day surrounds the sweet, calm recognition of how amazing the mother's in our lives are! Nurturing, kind, and strong are three of the top words that come to mind when I think of the mom's in my life.
Which leads us to my first product lunch and its corresponding give-away. I've started to create products with the tagline, "Love Grows Here". Seeing that these are fitting for a sweet Mother's Day gift, it seems right to launch now!
LOVE GROWS HERE MUGS AND STICKERS
GIVEAWAY
 There are TWO MUGS and TWO sticker sheets which will be given away, for a total of FOUR winners!
To enter, share your favorite blog post on social media, linking the blog post and tag me!  
I look forward to hearing which is your favorite and hopefully you will win!! 
On Facebook and LinkedIn, link the site & simply tag my name
On Instagram, share one of the posts & tag @brighteyedsmiles
If you aren't on social media platforms, write a comment below
A randomized drawing will take place on Monday, April 26th, after I will reach out to the winners!
Inspiration behind "Love Grows Here"
Have you ever heard the song by Edison Lighthouse, "Love Grows Where my Rosemary Goes"?
One of the fondest memories I have is walking through the streets of Philly. On this particular day, my boyfriend at the time, sung this song, and even played it on guitar! (Maybe he was just singing but my mind seems to remember that he had his guitar too.) Before that day, I knew of the song. However, the accuracy of the lyrics really hit home as he was singing it to me! Especially the 'her hair is wild and free' part. Here we are twenty years later (he reads this blog… so: Hi (*smile*) and thank you!)
Well! that brings us today's giveaway and product launch! My intention with this blog is to spread more love, inspire others and grow happy thoughts. I hope this these mugs and stickers are a reflection of that! And, if you win or order them, that they will be a reminder of love, inspiration and happy things!

Inspiration behind the pastel tree
Often, while listening to conference calls, or just doodling, I tend to draw trees, hearts, flowers and sunny skies. So many of my notebooks have random drawings of trees throughout. My love for nature is real (by the today is Earth Day! yay). I wanted something that represented comfort, growth and 'mother nature'. So I did an upscaled version of my doodles!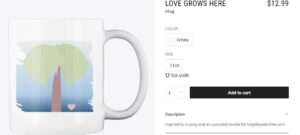 Other Cute Gifts
Maybe mugs and stickers aren't your thing?! Here a links to other sites with adorable gifts!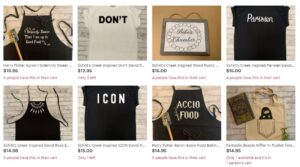 ---
---